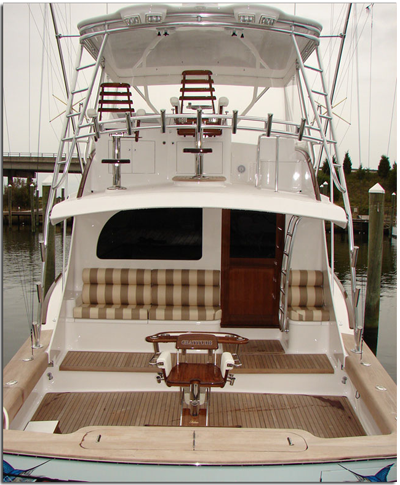 Welcome to Reelin N' Dealin Sportfishing
. Step aboard our luxury appointed 62' Custom Carolina sportfishing boat and make memories that will last a lifetime. We take pride in our vessel and our operation. Our goal is to give our customers a safe, fun-filled day on the water. Our vessel is located on Rudee Inlet at Fisherman's Wharf Marina in Virginia Beach, Va.
Our friendly, knowledgeable crew will do their best to ensure fun is had by all. We use only the best equipment available, equipment failure should never be an issue when you are reeling in a catch of a lifetime.
Our offshore season usually starts in the late spring and finishes in late fall. Call and secure your date now so you do not miss out on the action!
Our boat is one of the fastest and most luxurious vessels in Virginia Beach. With a cruising speed of 33 knots you spend less time riding and more time fishing. Relax on the way out on our comfortable leather couches and air conditioned cabin. Listen to your favorite satellite radio station while you reel in your catch. You can also bring your own music on your iPod and plug it in to our premium sound system. If you want to take a break from the action feel free to go inside and watch HD satellite TV on our 40" flat screen TV with surround sound.