Our Rates: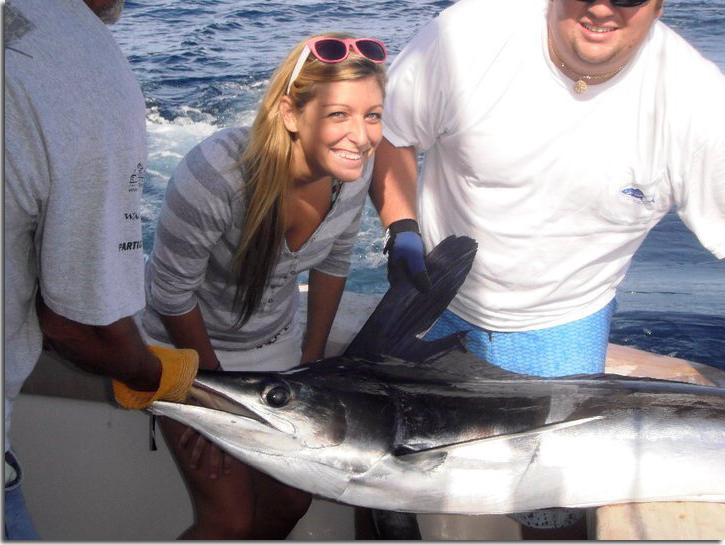 All trips are for up to six passengers and include crew, fuel, ice, bait and tackle. Gratuity not included.


Full day offshore (5 a.m. to 5 p.m.)
$2850.00
White Marlin, blue marlin, sailfish, tuna, mahi, wahoo.
Overnight trip (12 p.m. to 5 p.m. The next day)
$4000.00
Swordfish, Shark, white marlin, blue marlin, sailfish, tuna, mahi, wahoo.
Striper/rockfish trips
Full day (8 hours)
$1500.00
Half day (4 hours)
$800.00

Sunset/dolphin watching cruises
$200.00/hour
Please note it is customary to tip your first mate 15%-20% of your charter cost.
* Price may not include fuel surcharge. Please ask about fuel surcharge.
Deposits, Trips, Scheduling
Deposits - To be 20% of total trip cost. Must be paid by check or we would need a valid credit card number to hold until the day of the trip.
Rescheduling and Refunds - If there is some unforeseen condition that will not allow the charter fishing trip to run as scheduled, ie bad weather or a mechanical issue, the charter may reschedule or have their deposit refunded in full. Weather calls are totally the discretion of the Captain.
Day of Trip - The cost of the charter fishing trip is due in full either paid by cash or credit card*.
Cancellations - If the customer does not call to reschedule and simply does not show up for the scheduled charter fishing trip the balance for the entire charter will be due in full. A trip can be cancelled and the deposit refunded in full if we are given three days of notice. We know things happen and plans change unexpectedly, and we are easy going about rescheduling, but it is the customers responsibility to let us know if there is a change in plans.
Method of Payment - We accept checks or hold a valid credit card number for deposits. All deposits must be received two weeks prior to your trip or you will risk losing your date requested. Upon completion of the trip we accept cash or credit card*. Sorry,we do not accept personal checks for payment.

*subject to surcharge
What to Bring on your Charter
Bring a cooler for food and drinks :
Ask Captain Taylor how large a cooler you will need to carry your fish home in. Ask what you can keep and even where you can have your fish cleaned.
Bring all your food and drinks.: If you want to bring beer you should clear it with the Captain first. Alcoholic beverages are ALLOWED on our charters. A catered lunch, snacks, and drinks can be provided upon request. Call for pricing
A sports bag to carry all your personal fishing gear : A sports bag is a good idea to bring for carrying your rain gear, hat, glasses etc and other personal items that you need on a saltwater charter fishing trip.
Bring chicken, subs, and sandwiches or whatever you want to eat. Bring your drinks - Ask the Captain if he allows beer.
Foul weather gear - Optional : If you will be fishing in foul or rainy weather then you may want to bring some gear to keep you dry. Not as important on boats with parlors, cabins, and covers.
Sunglasses : Bring polarized sun glasses to block the suns glare that reflects up off the water. Offshore fishing is made more difficult if you can't see the fish through the reflected sunlight.
Fishing hats and Sunscreen so you don't burn :The Virginia Beach Beach fishing region can get very hot during the summer. A hat or ball cap is a good idea, especially for you guys that are getting a bit thin on top. Protect your head from the sun's burning rays. Make sure you bring sunscreen, especially if you easily burn. Fishing while in sunburn agony is not a fun trip.
A camera or video camera for pictures :Bring a camera to take snapshots of those big fish you catch, or even better bring a video camera and catch all the fishing action.
Dramamine : If you get sea sick or aren't sure if you get sea sick then it is a very wise idea to take your Dramamine before you leave the dock. Nothing can ruin a fishing trip worse than a guy named "RALPH".